Running on empty?
Apr 14th 2022
Agrimark Services
Nikki van Coller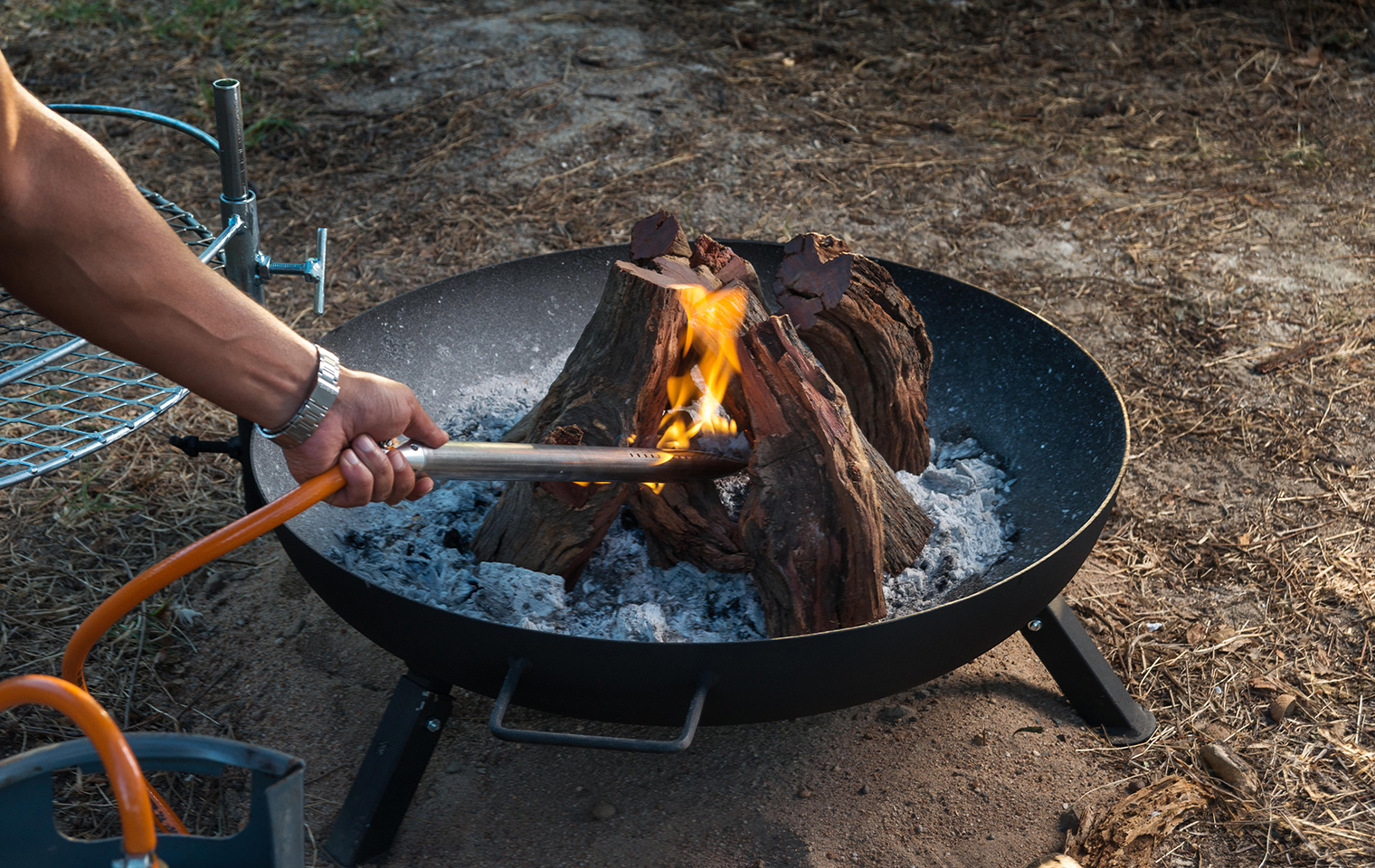 Agrimark provides a number of gas filling, swapping and purchasing solutions
With last-minute loadshedding still very much part of our everyday life, it's always a good idea to have a back-up plan. Gas is a great alternative to electricity – it's cheaper, more reliable and can be used by homes, businesses, factories and farms, as well as on your camping trips.
Agrimark provides many services over and above stocking quality products for farmers, farmers-at-heart, gardeners, DIY enthusiasts, builders, workers and outdoor lovers. Gas-related products, as well as filling and replacing gas bottles is just one such service that Agrimark customers appreciate.
Cooking on gas
Many of the bigger Agrimark stores stock gas stoves, including Defy 4-burner models, the ALVA stainless steel 2-plate stove and LK's 2-burner gas braai. Agrimark also stock the Cadac gas cooker top, skottel braai and other accessories, which means you aren't limited to what you can cook and eat when your home has no power, or when you're on a camping trip. The Waypoint gas lighter has just been added to the shelves and is no match for even wet wood. Best of all, it's no match for even wet wood and serviceable.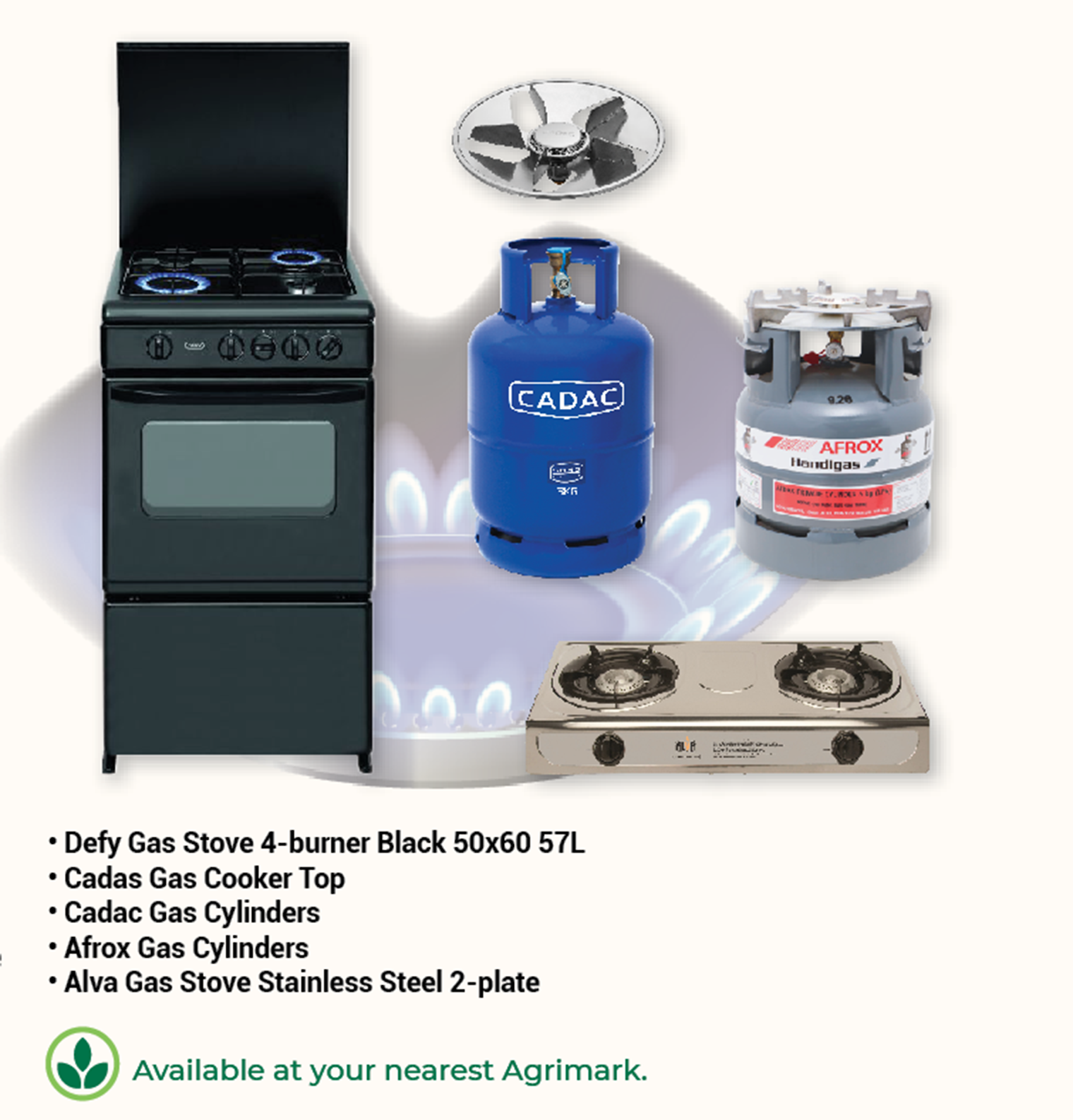 Gas bottles
Agrimark stock and sell both Afrox and Cadac gas cylinder in 3kg, 5kg and 9kg sizes. The 3kg is perfect for camping, as it's smaller and more portable. It also works well as a home back-up for boiling water or cooking in an emergency. The 5kg and 9kg bottles are probably the most popular sizes and used for most home applications, such as for the stove, gas heater and gas geyser. The larger gas bottles are more suited to industrial use – they are large, heavy and cumbersome, but last much longer.
Gases used in agriculture
When it comes to farming, Afrox Handigas is used in a range of applications, including crop drying for corn, wheat, barley, hops, oats, rye and peas, as well as for nut roasting, pig farrowing, and cold and warm room chicken brooding.
Farmers are always looking for alternative methods to chemicals, in order to grow more natural agricultural products. LPG is often used in intensive cropping systems where a high level of heat is required in order to kill weeds, germs or diseases that may be present in the soil.
Afrox Agrigas nitrogen gas is added to croplands and is critical to sustaining soil fertility and crop production. Nitrogen is also used to displace oxygen in food packaging, while Ripegas is used for degreening of fruit, by accelerating the natural ripening process.
Afrox Handigas also provides the portability to reach every area of the farm and is used for general maintenance and calf dehorning in the fields, while cooking and heating with LPG improves living conditions for farm workers.
Other applications
For many businesses, gas is vital to operations. Agrimark wants customers to experience the convenience of being able to refill or swap a variety of gas products and stock so much more than just the home-use gas bottles.
Many stores stock 8kg Afrox Agrigas acetylene oxyacetylene, which is used for welding and cutting of metals, and Argonshield (17.8kg), which is primarily used for TIG welding. Agrigas Argon is used by welders to protect the weld area, as well as in incandescent light bulbs to stop oxygen from corroding the filament. Agrimark also stocks a Matweld welder, inverter and inverter kit.
In the hospitality industry, Suremix gas is used for dispensing soft drinks, sparkling water, draught beers, craft beers and lagers.
In other industries, oxygen is used in the production of steel, plastics and textiles, brazing, welding and cutting of steels and other metals, rocket propellant, oxygen therapy, and life support systems in aircraft, submarines, spaceflight and diving. For refrigeration systems, we stock 31.3kg Afrox Agrigas Co2 Wet.
When we think of gas, we tend to think of the 7kg orange or green bottles that need swapping or filling from time to time to keep our stoves, gas heaters and geysers working, but the truth is, there are a number of other gases used in a vast array of industries. Agrimark want to ensure that all their customers, including builders, businesses, farmers and the general public have a one-stop solution for all their gas needs.
Get your gas here*
REFILL: Askham, Aussenkehr, Bonnievale, Brandvlei, Ceres, Clanwilliam, Darling, Franschhoek, Graafwater, Kakamas, Keimoes, Kraaifontein, Montagu, Op-Die-Berg, Orchard, Paarl, Patensie, Porterville, Riebeeck-Wes, Robertson, Simondium, Upington, Vredenburg, Wellington
SWAPS: Askham, Augrabies, Aussenkehr, Barrydale, Bitterfontein, Bonnievale, Brandvlei, Ceres, Citrusdal, Clanwilliam, Darling, Durbanville, Eendekuil, Elgin, Franschhoek, Garies, Graafwater, Groblershoop, Grootdrink Depot, Hermon, Kakamas, Kamieskroon, Kanoneiland, Keimoes, Kenhardt, Klawer, Kliprand, Kraaifontein, Kuruman, Langkloof, Loeriesfontein, Lutzville, Montagu, Op-Die-Berg, Orchard, Paarl, Patensie, Philippi, Piketberg, Pofadder, Porterville, Rawsonville, Riebeeck-Wes, Robertson, Simondium, Springbok, Stellenbosch, Tulbagh, Upington, Vanrhynsdorp, Vredenburg, Vredendal, Wellington, Wolseley, Worcester
*Enquire in store for available sizes
The pros and cons of electricity and gas